Soliloquies from A High Wall Hidden Cemetery
By Duane Locke
from The eternal return:
When these now scattered bones
And were covered with that glorious flesh
And its glorious neutral networks.
Tiny twisting dark rivers
In my time-browned skull.
About Soliloquies from A High Wall Hidden Cemetery
My presentations of what might be called dramatic monologues of the dead are
really confessions from the cognitive unconscious of the living. Finally, the dead
become consciously aware of what they suppressed during their lives by
self-deception and
strong adherence to false beliefs that were passionately
believed to be truths. People
while alive exists not as embodied beings, but
apparitions, live indeterminate lives as slave mentalities to traditional values,
the status quo and popular opinion, live fortified by self-deception, faith in fictions
as realities, and murder their potential to be a fully realized human beings by faith
in a disembodied mind and the concomitant false and degraded concept of corporality.
People have lived too long by a false reason, the Platonic-Cartesian inheritance, and
by a false irrationality which was only a failed and desperate attempt to find an
alternative replacement for the prevalent falsity of disembodied mind reason.
To recognize one's mental enslavement is to be free, and I hope I have provided
recognitions, recognitions poetically conveyed through the emanations of the unsayable
that arise resurrected from my words that in the poetic process become
sur-words, transformed, no longer the words from the dead language of lies
most people speak.
Duane Locke
Encomiums for Soliloquies from A High Wall Hidden Cemetery:

In

Soliloquies from a

H

igh

W

all of a Hidden Cemetery

, Duane Locke remains true
to Appollinaire's credo that poets pay attention to their immediate environments, thus
avoiding affectations inherent in ancestral lexicon. Locke works as comfortably
with current surroundings as he does ancient mythologies, and armed with his razor
lexicon, Locke weaves a lucid aesthetics into a brilliant tapestry that
includes many themes, two in particular: the death of the living through repressed
desires, the living dead who can only glimpse their wasted lives after death, plus
romantic love expressed unsentimentally as any human could, a love simultaneously
enlightened, bleak, infinite and doomed, but above all "this-worldly." Locke in this
new book continues his incredible run of brilliant poetry.

—

Alan Britt
The unstoppable Duane Locke gives one more last word to the dead and they

are just as confused as the living when they drift to annihilation …my bones,

bones now haphazardly scattered disconnected… The reader is put inside

the coffin of one who is trying to figure out what great and bawdy role he played

in history while lamenting the loss of his tragic pretensions …my coffin is

now scraps and scattered on my bones. The author's genius allows us to

listen to insights achievable after death. Locke finally removes the mythical

angel's finger pressed to a newborn baby's lips as well as Chaucer's Troilus who

looks down from the spheres at his melting obsession for Criseyde on this

litel spot of erthe.




—Amelia Arcamone-Makinano




In

SOLIOQUIES FROM A HIGH WALL HIDDEN CEMETERY

, Duane Locke
continues the momentum of his exploration in "Voices from a Grave: Homage to Edgar
Lee Masters." He delves in the quest for identity in a complex and thought-provoking
way. It strikes both a personal and a universal chord, because it is about one of the most
basic desires of human existence: self-discovery. For a book to have such power goes
beyond pure accomplishment into the realm of life affecting. After experiencing the
soliloquies, the reader is sure to be poised on a rich inward journey.

SOLIOQUIES




FROM A HIGH WALL HIDDEN CEMETERY

is definitely another pinnacle in Duane
Locke's staggeringly amazing literary career.

—

Anna Donovan





In

Soliloquies from A High Wall Hidden Cemetery

, Duane Locke has once again
surpassed the expected. This book of poetry is indeed brilliant, beautifully written, spell
bindingly and shockingly real as it pulls you into the graves of each stunning mind; I
come away searching for my own breath with each read.

—

Mist Willes





This book is a marvelous expansion of the theme pursued in Duane Locke's Voices from a
Grave: Homage to Edgar Lee Masters. But there, in tribute and excelling, Spoon River
anthology, there was but one narrator. Here in

Soliloquies from a High Wall of a Hidden




Cemetery

, we meet many: the man who

When alive I wore a wild boar hair shirt

. Who, in
reflecting on a life of self-torments, imagines an identity shape shifting with Soren
Kierkegaard, Thomas More, and a medieval scribe. He is intimate with pain:


The pain of a hair shirt torturing my flesh,




Although I have no flesh. I feel the pain




Of wanting someone to love, and having




No one to love. At the same time, believing love, an illusion.




But pain is different when dead, for there




Are no doctors, drug stores, pain killers available.




There are no psychiatrists for unrequited lovers.




There is no hope




The pain will ever stop.




When dead, pain is meaningless, but alive




Pain




       Is




           Joyous.




Then there is the cynical scholar who is amused at stories of bombastic eulogizing and
parodies them fruitfully in his obvious self-contempt and loneliness.

I can see my tombstone: "Professor
Of Philosophy, Werther Warner,
Who brought Hegel to the French,
Gave Merleau-Ponty, Foucault, Sartre, Derrida,
Deleuze, Levinas, Lacan, Fondane their start."

The poems go on and gloriously so, a man contemplates the placement of his bones in
ancient Egypt pining for a woman who was not his wife in life. A soul concerned with
lack of memory and a multitude of 'interpretations':

I am not ever sure that my name
When alive was Dunner Morno,
For I remembered I was called
By a number of names:
Bartleby the Scrivener, Hunger Artist,
Stephen Dedalus, the Artist
Of the Beautiful, Underground Man,
Steppenwolf, Philip Carey
And Sam Spade.

I don't know who I was when alive,
But I always daydreamed I was Vermeer
I identified myself with the Vermeer
In the painting in Vienna
When he made a public appearance
He turned his back to the audience.

Every poem, every life depicted in this volume is deep, complex, and a worthy
companion to the reader. Locke's genius infuses each and all with so many textures,
hues, reflections, conflicted emotions that we must let ourselves be taken away. The
questions of identity, the meaning of "life", these are brilliantly addressed by the author
in poetry which consistently stuns. This is a volume you ignore at the peril of your
'immortal artistic soul'.

—

Constance Stadler

, author

Tinted Steam, Sublunary Curse

and Paper Cuts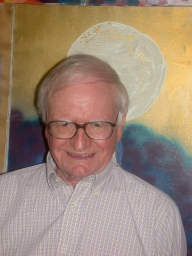 Duane Locke
lives a hermetic life in the sparsely populated
part of rural Lakeland, Florida.
He has had, as of August, 2009, 6,389 different poems published
in print magazines,

American Poetry Review

,

Nation

, etc, and e zines,

Counterexample Poetics

,


Pen Himalaya

, etc, and 20 books. His latest two books published in 2009 are

YANG CHU'S POEMS

,
376 pages, published by Canadian publisher,
Crossing Chaos
(can be ordered
HERE
, or
HERE
) and


VOICES FROM A GRAVE

, published in England by erbacce-press (can be ordered
HERE
).
He is also a painter and photographer. An account of his painting can be found in
Gary Monroe's

EXTRAORDINARY INTERPRETATIONS

(University of Florida Press,
2003).

His sur-photography is widely scattered over the internet, and he has done many book covers.
His interests are insects, post-modern philosophy, cognitive science, and opera.
More information can be found on Google, click
Duane Locke
. Currently, he has 481,000 entries.



Other books by Duane Locke:

1968:

FROM THE BOTTOM OF THE SEA


1968:

INLAND OCEANS


1969:

DEAD CITIES


1969:

THE SUBMERGED FERN IN THE WAISTLINE OF SOLITUDE


1969:

RAINBOWS UNDER BOARDS


1974:

THE WORD


I975:

IMMANENTIST SUTRAS


1976:

STARFISH MANUSCRIPT


1976:

VARIOUS LIGHTS


1976:

FOAM ON GULF SHORE


1986:

DUANE LOCKE, POEMS


1992:

WHOEVER RAISES THE QUESTION OF REPRESENTATION IN OUR TIME


1995:

WATCHING WISTERIA


1996:

GEORGE SAMSON'S LOVE SONNETS


2002:

SQUID'S DARK INK


2002:

FROM A TINY ROOM


2002:

THE DEATH OF DAPHNE


2004:

OBSERVATIONS: ART AND POETRY


2009:

YANG CHU'S POEMS


2009:

VOICES FROM A GRAVE