thirteen poems written inside your local zaxby's
By Joseph Goosey
FIVE
The realty magazines all smell of fruit.
The colors are Easter in a dramatic family. The legs
are bronze statues
that do not touch: Popsicle sticks peeled apart
at a child's luncheon. My Indian
wife has such an uneven tan line
so I suspect that when I met her in the Peace Corps
she was just a tourist
and faking.
I slaughtered a goat for a 10:15 tee time
but he had swine flu anyhow and I remain
comfortably
vegetarian.
About
thirteen poems written inside your local zaxby's
Hardly written inside a Zaxby's at all,
Thirteen Poems Written
Inside Your Local Zaxby's
, addresses such lofty topics as suicide and
such trite topics as Australian pop singers. This is my attempt to
grab small instances of living as they appear in a Zaxby's or a
bookstore or a country club (where I have the privilege of parking
people's cars) and tear them apart. Though mostly not written inside
Zaxby's, almost everywhere you go may as well be a Zaxby's. Some of
these poems are my attempt to explode upon the page and whether or not
I have succeeded in doing so is up to you, dear reader. Also, large
portions of this collection were, in fact, written inside of a
Wendy's.
Joseph Goosey
Encomiums for
thirteen poems written inside your local zaxby's


Joseph Goosey writes modern America with a complex attentiveness. I
like the way each line weaves and turns before settling into a
startling resolution, and I love how happily he allows the ordinary to
be extraordinary. Funny and reflective, these thirteen pieces can be
enjoyed and ruminated upon in equal measure.
--Adam Robinson, Editor of Publishing Genius Press, Author of
Adam Robinson And Other Poems
Goosey delivers 13 taut poems tinged with witty and quirky
juxtapositions which are calibrated to tickle the imagination and poke
fun at the absurdity of the human condition.
--Brian Fugett (editor/
Zygote in my Coffee
)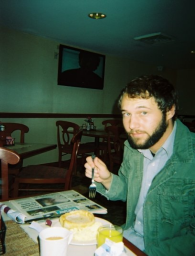 Joseph Goosey
, born 1986, lives in and dislikes
Jacksonville, Florida. He has two print chapbooks available, "A Comfortable
Place With Regular Sunshine" and "Wet & Dripping." Other poems have shown
up in places such as No Posit, IsReads, and The Portland Review. He is working
indefinitely on a novel which he will most likely abandon.
Other books from Joseph Goosey:
Wet And Dripping - Shadow Archer Press (Chapbook)
A Comfortable Place With Regular Sunshine - Poptritus Press (Chapbook)
26 Poems That Will Not Win Me $15,000 Dollars (E-Chap) - Origami Condom Press