Vibrant Ghost
By Peter G Res
From Neon Soliloquies:
would be ribbed dragon scales
like bright rinds echoing night:
Purple and violent among fireflies
falls to its side tells us to leave
well enough alone the house
Sing in a slap of night. What great
clay palms squashed your sorrow?
Go off to darker galaxies of mind
active casseroles with pills
lined inside. We'll eat with the moon
break mother down to our bellies
Vibrant Ghost
was born out of the poverty of illness. In particular, it is meant as
an emotional/philosophical/poetic offering to my beloved mother's struggle with
shingles in the throat and mouth, so that her pain might end. The collection was
compiled at 4 am on July 18th, partly of a new series of poems written in almost
complete isolation ("Neon Soliloquies") along with a handful of haphazard musings
on death and dream. July 4th to the 30th was a time of constant ER visits, failed
prognoses, and harrowing probabilities for us. During this period, I spent any and
all time I had away from care giving, in the dark comfort of my workspaces, to
pen my reticent frustrations in poems and letters. What has surfaced is something
altogether emergent.
Peter G Res
Encomiums for Vibrant Ghost:
Vibrant Ghost, though written by a young man, is essential. The poems are passionate, odd,
full of images that stick, and smart. He's no beginner. He's real.
This is urgent and powerful poetry. Res' rhythm is impeccable; his facility with disruptive
images compelling. Res' poetry has the scent of madness about it, but it is a madness we
know: the madness of loss and struggle,

of mortality. As the solid metaphors collapse into
bizarre yet beautiful juxtapositons, we see our confrontation

with the demise of those we
love mirrored in the collapse of standard meaning-carrying deivces. The metaphor dies,
like our sense of the world, when we confront the death of those we love. It is this, above
all, that draws me back again
and again to this powerful work.



—

Dr. J. Jeremy Wisnewski, Phd. Editor,
Review Journal of Political Philosophy

Author of
Wittgenstein and Ethical Inquiry
(Continuum 2007)
The Politics of Agency
(Ashgate 2008)
and
Ethics of Torture
(Continuum 2009)
"Cannons of bone marrow," the setting "a prescription," a sense of suspension, of the
impending shades these poems,
their layered rhythm a mantra of family and illness. Powerful and evocative, Peter Res's
poetry comes "crashing into light."

—Francesco Levato Executive Director,
The Poetry Center of Chicago

Award-Winning Author of
Marginal State
(Fractal Edge Press 2006)
and the Acclaimed Art-Poetry Film

War Rug

(2009)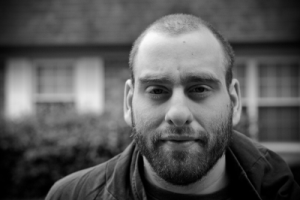 Peter G Res

was born in Paterson, New Jersey in
1985. He was raised in an open and giving household, under the patient guidance of his parents
Peter and Barbara and in the constant amusement and inspiration of his twin sister, Julia.
While there, he developed a love for dogs, an uncanny ability to perceive ghosts, and a rich
awareness of the familial spiritualism that fuels his expression. Peter received his Bachelor
of Arts Degree in Philosophy from Hartwick College in 2008 and he is currently a Joel
Oppenheimer Scholar at the MFA program in poetry at New England College. His work can
be found at

Abjective

,

Tinfoildresses

,

Collective Fallout

, among other venues. Peter is also an
active philosopher and proud member of the

Society for Philosophy in

the Contemporary
World

. He has lived in France and Australia, and currently resides in his hometown of Old
Tappan, N.J. where he is presently engaged in dialectic with present past and future identities.