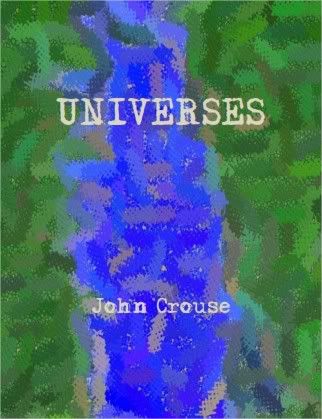 UNIVERSES
John Crouse
To read UNIVERSES, click the cover
From UNIVERSES:
A
Troops uvulas tempos underclothing teaspoons,
B
Grammars generations grapefruits handwringing
C
Eyelets kingdoms leaks crowned accident leagues.
D
Spawn mastodon massachusets pimples blow
E
Raggedy cancer mantis electric beans. Containment
F
Rooks tarantulas candles classics, tempers tricky
G
Waylays, stencils the sounds footsteps takes
H
Unsteady aim. Ditches corsets reactive sheets
I
Steps toward epilogues secret manners enslaved
J
Head saves wings that might someday be metallic.
K
Toward the beginning of a stream turns aortas to
L
Upper adores, dictionarys, tempests playbooks massages
M
Cartoons iterations thefts stencils than mammary glades
N
Reboots. Prepositions hinges than braless endows.
O
Heavy freedom beefs plainsong jelly amasses,
P
Disintegrates dragonfly battleships toothaches interpretive
Q
Umbrellas ventriloquists whitecap. Graffiti velvets pedigree
R
Sighs. Valor throbs handcuff ventilator clown meridian
S
Vestiges sty. Pro musk postscript litterbugs retch hatchways
T
Handlebars revivals steamships lisps. Masterpiece ambulance
U
Gin chowder quiz mousetrap, jug pushover aliments
V
Manatee. Pretty about ghoul, pranks liver juniper preschool
W
Astronaut sugar purposes runways purr. Thesaurus puppet
X
Thickets steals thermal law goat theories. Loin macron flowers loll.
Y
Sumac wheel pocketknife romp. Uncle shoal, who else? Extract
Z
Exact spunk. Spleen decals glockenspiel flipper. Hyena past
About UNIVERSES:
Sung & said & thought & read, read-thrus cast outright, fleshed or imagined, & foundered @ eye- & brain- stem, reader, participating or outcast, wordy or mums or mumbles the words, any reconciliation or raillery flys off @ the mouths as smiles or frowns purr ours, supersonic alphabet soup, as needed. Characters finishing characters sentences @ line ends as stand- ins, rabbits from hats, cables to splice algebraically, understudys voiceovers, thoughts aloud,as disconnecting dots readers eyes connecting stage & page teases. Characters charactering, letters pinned on shirts, penned hearts on sleeves, writing infinitely different same open books like alphabet speaking for it- & them- & our- selves.
John Crouse
Encomium for UNIVERSES:
"What do we learn about universes from John Crouse's UNIVERSES? -- the universe is orderly, it goes lineated from A to Z --- its categories [A to Z] are important, we find them in upper case. the 'contents', usually short and pithy sentences with skewed wisdom and humor, in lower case, are less pretentious. The Universe is not the universe, it is the UNIVERSES. The existence of multiple universes is acknowledged -- present astronomical theory concurs with this view and Crouse capitalizes [no pun] on this description by noting we have UNIVERSES -- or, 'All VERSES are UNI-que and/or UNI-versal. As with the best poetry, it is abstract and self-referential. Of course, in this self-preoccupied era, we can wonder about the meaning of self-referentiality, however, the reference is to the poem. The poet is the poem, the poem is the poem, all of us are UNI-que, and all of us are UNIque poets in this/these UNI-verse[s]. All poets can be honored to read this work by Mr. Crouse."
Peter Ganick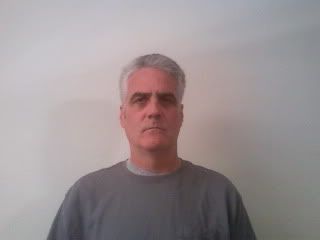 Photo of John Crouse