Around/About
Calvin Pennix
To read Around/About, click the cover
A MASKING OF ELEMENTS
The concrete stands tall
[[[domineering]]]
only because the bus is late
A slave to the incorporating elements
succumbing to each's demands
[[[a requirement for membership
all inclusive]]]
with the exception of interior elevation
An exhibition of circumstance
positions the senses beneath forms of closure
masking a contained projection
with observation
About Around/About:
An exercise in both spontaneity and constraint, Around/About acknowledges the technology of language through varied triggers and attempts to turn said technology on itself. When has one said/written enough?
Calvin Pennix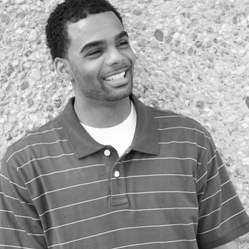 Calvin Pennix holds an MFA in Creative Writing from Chapman University and lives with his wife and daughter in Mission Viejo, CA. He is currently an instructor at Everest College, where he teaches Composition, American Literature, Critical Thinking and Algebra.
Calvin's first book of poetry, Grounds, was published by Argotist Books and he has had his poetry appear in UCity Review, A Few Lines Magazine, Unlikely 2.0, Counterexample Poetics, Ishaan Literary Review, Truck, Peacock Online Review, Mad Hatters Review Blog, On Barcelona, and forthcoming in Otoliths. He is also the founding editor of quarter after, a new journal that will be publishing its first issue in March 2012.
Other Published Collections:
Grounds (Argotist Ebooks, 2011)
Websites/Blogs: