Chilean Sea Bass is Really Just Patagonian Toothfish
Charles Freeland
from Chilean Sea Bass is Really Just Patagonian Toothfish

Please don't inform me of any alternatives. I've been growing an inch or more every year since they started
enriching the oats, started cataloguing the frequency of the thunderstorms as if they hoped to find there some
pattern like that the geese follow when they are over the Upper Platte. Or that creature termed leviathan, cause of
social sterility because it is identified with Egypt and Babylon. Just as if these places weren't already desirable in
themselves. Destinations one discovers while trolling the brochures at the truck stop.
About Chilean Sea Bass is Really Just Patagonian Toothfish

In Chilean Sea Bass is Really Just Patagonian Toothfish, Charles Freeland continues the experiment in longer prose poetry form he began with Eros & (Fill in the Blank). It is a work equal parts narrative, Menippean Satire and old-fashioned hoax, another in Freeland's growing oeuvre to ask the marginally important questions like Where are we? and What's next?     
Encomiums for Chilean Sea Bass is Really Just Patagonian Toothfish

"How do we discern the truly essential ingredients?" asks Charles Freeland in this passage that serves up a combination platter of the frivolous and the significant with a rhythm reminiscent of life itself.  Cultural detritus pollutes the field of our vision in the form of junk food, bar codes, and phantom pains. Natural landscapes are filtered through a force field of attention deficit disorder.  What gets lost and what remains visible in this land of distractions and information overload mode?  Sometimes it seems "we only register when something is amiss".  This piece moves in a way that captures both the suppression and surprising expressions of the day to day; the chugging routine and the startling little rifts in the routine, when suddenly a truly singular image or genuine moment comes to the forefront and asserts its own unique individuality.
Juliet Cook, author of Horrific Confection
Lyrically wry, mapping the periphery of earshot with a richness of language pliable as the mind, Charles Freeland's Chilean Sea Bass is Really Just Patagonian Toothfish is a masterfully woven narrative, a voice with big shoes filled. Prose absolved of the prosaic, poetically carving out a sensibility of the infinite in the protean, the human after all. A stunning achievement. 
Philip Byron Oakes, author of Cactus Land and Sard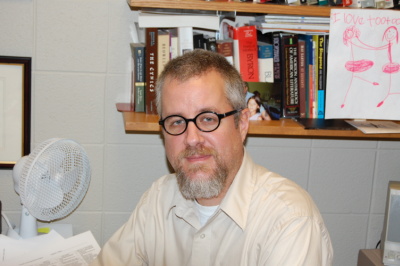 Twice the recipient of the Individual Excellence Award from the Ohio Arts Council, Charles Freeland lives in Dayton, Ohio where he is Professor of English at Sinclair Community College. His books include the collection Through the Funeral Mountains on a Burro (Otoliths) and the book-length poem Eros & (Fill in the Blank) (BlazeVOX). His website is The Fossil Record (charlesfreelandpoetry.net). 

Other Books by Charles Freeland:

Deviled Ham and a Picture of Jesus: Twenty Grubb Tales (Finishing Line Press, forthcoming)
Through the Funeral Mountains on a Burro (Otoliths, 2009)
Eros & (Fill in the Blank) (BlazeVOX, 2009)
Eulalie & Squid (Chippens Press, 2009)
Furiant, Not Polka (Moria, 2008)
The Case of the Danish King Halfdene (Mudlark, 2008)
Where We Saw Them Last (Lily Press, 2007)
author photo by Kamari Stevens